COSC1337-013 Course Syllabus
Title:
Programming Fundamentals II
Instructor:
Roie R. Black
Term:
Fall 2018 (16 week)
Website:
http:/www.austincc.edu/rblack
Basic Course Information
Course Description:
Prerequisites:
COSC 1336 or instrictional program approval.
Required Text: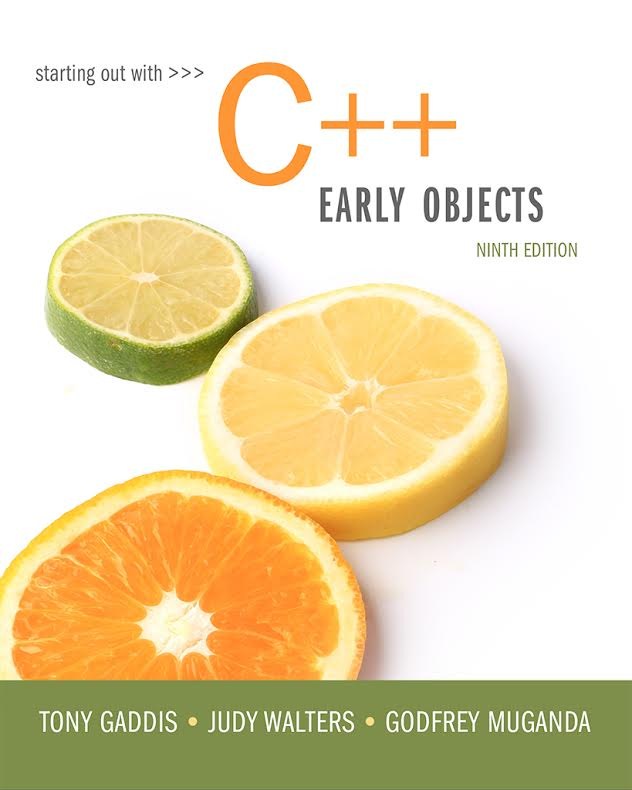 | | |
| --- | --- |
| Title: | starting Out With C++, Early Objects (With Access) |
| Authors: | Gaddis |
| ISBN: | 9780134400242 |
| Publisher: | Pearson |
Instructor Information:
| | |
| --- | --- |
| Name: | Roie R. Black |
| Email: | rblack@austincc.edu |
| Phone: | 512-223-9122 |
| Office: | SAC1-1209.1 |
Class Meetings:
| | | |
| --- | --- | --- |
| Lecture | SAC1-1209 | MW 9:00am |
| Lab | SAC1-1209 | MW 10:20am |
Office Hours:
The preferred office hours for this class are:
MW 11:00am - 12:00pm SAC1 1209.01
If needed, you can make an appointment by email. I will try to accomodate your needs. Please try to schedule meetings at the campuses where I am teaching this term.
Course Information
Instructional Methodology
This course will have 50% lecture and 50% lab each week. If the students are unable to finish the assigned lab work within the lab time, they will need to visit the CIS open labs.
Course Rationale:
This course is designed to teach students the C++ programming language and introductory and intermediate programming concepts with examples and applications using the C++ language.  The course builds and extends topics covered in the prerequisite course, COSC 1336 and prepares students for more advanced programming courses such as ITSE 2331 (Advanced C++ Programming) as well as for entry level programming employment.  The course is required for an Associate Degree in several Computer Information Systems and Computer Science degree areas.
The course is required for an
Associate Degree in several Computer Information Systems and Computer Science degree areas
Course Objectives/Learning Outcomes:
Demonstrate a thorough understanding of modular programming by designing programs that require the use of programmer-defined functions.
Demonstrate a thorough understanding of arrays by designing and implementing programs that search and sort arrays.
Demonstrate a thorough understanding of the object-oriented programming concepts of encapsulation, data abstraction and composition by designing and implementing classes including the use of overloaded functions and constructors.
Demonstrate a thorough understanding of the concept of pointers and dynamic memory allocation by designing and implementing programs using pointers and dynamic memory allocation.
Demonstrate a thorough understanding of the implementation of programmer defined functions and classes by writing code, performing unit testing and debugging of multiple complex programs.
Demonstrate good documentation style in all of the programs written in this course.
Demonstrate proficiency in implementing data validation code, performing unit testing, and developing test plans while implementing robust solutions to the assignments in this course.
Demonstrate a thorough understanding of stream input/output for both console and files.
Demonstrate an understanding of the differences between C and C++ in the areas of strings, pass by reference/passing pointers, and structs by designing and implementing programs that use C strings, C++ strings, C language structs and classes.
Secretary's Commission on Acquiring Necessary Skills (SCANS):
Interpersonal
2.1 Participates as a member of a team
2.6 Works with cultural diversity
Information
3.1 Acquires and evaluates information
3.2 Organizes and maintains information
3.3 Uses computers to process information
Systems
4.1 Understands systems
4.2 Monitors and corrects system performance
4.3 Improves and designs systems
Technology
5.1 Selects technology
5.2 applies technology to tasks
5.3 Maintains and troubleshoots technologies
Basic Skills
6.1 Reading
6.2 Writing
6.3 Arithmetic
6.4 Mathematics
6.5 Listening
Thinking Skills
7.2 Decision making
7.3 Problem solving
7.4 Mental visualization
7.5 Knowing how to learn
7.6 Reasoning
Personal Skills
8.1 Responsibility
8.2 Self esteem
8.3 Sociability
8.4 Self management
8.5 Integrity/honesty
Course/Class Policies
Grading Policy:
Grade will be based both on concepts and practical application. Exams, quizzes and homework assignments may be a part of the grade. An overall grade will be assigned based on the following grading scale:
A
90 - 100
B
80 - 89
C
70 - 79
D
60 - 69
F
0 - 59
Points
Homework
10 @ 15
Labs
12 @ 30
Exams
2 @ 150
Group Projects
1 @ 150
Participation
40
Attendance/Class Participation
For on-campus courses, attendance will be taken during each lecture session. You are expected to attend classes regularly. If you miss a class, you are still responsible for any material covered in that class. For distance classes, attendance points will be assigned based on email correspondence and on-time homework/lab submissions.
Students are expected to read and study the assigned material, per the course schedule, BEFORE each class.
Academic Integrity
A student is expected to complete his or her own projects and tests. Students are responsible for observing the policy on academic integrity described in the Current ACC Student Handbook, under "Student Discipline Policy, Section C". Violations in this class will result in a grade of "F" for the course.
Withdrawal Policy
['Regular and punctual class and laboratory attendance is expected of all students. If attendance or compliance with other course policies is unsatisfactory, the instructor may withdraw students from the class.', "It is the student's responsibility to complete a Withdrawal Form in the Admissions Office if they wish to withdraw from this class. The last date to withdraw for this semester is Apr 23, 2018. It is not the responsibility of the instructor to withdraw the students from their class even though the instructor has the prerogative to do so under the above listed circumstances."]
Incompletes
A student may receive a temporary grade of I (Incomplete) at the end of the semester only if ALL of the following conditions are satisfied:
Thestudentisunabletocompletethecourseduringthesemester due to circumstances beyond their control.
The student must have earned at least half of the grade points needed for a C by the end of the semester.
Therequestforthegrademustbemadeinpersonattheinstruc- tor's office and necessary documents completed.
To remove an I, the student must complete the course by two weeks before the end of the following semester. Failure to do so will result in the grade automatically reverting to an F.
Student Rights and Responsibilities
Students at the college have the rights accorded by the U.S. Constitution to freedom of speech, peaceful assembly, petition, and association. These rights carry with them the responsibility to accord the same rights to others in the college community and not to interfere with or disrupt the educatonal process. Opportunity for students to examine and question pertinent data and assumptions of a given discipline, guided by the evidence of scolarly research, is appropriate in a learning environment. This concept is accompanied by an equally demanding concept of responsibility on the part of the student. As willing partners in learning, students must comply with college rules and procedures
Statement on Students with Disabilities
Each ACC campus offers support services for students with documented physical or psychological disabilities. Students with disabilities must request reasonable accom- modations through the Office for Students with Disabilities on the campus where they expect to take the majority of their classes. Students are encouraged to make this request three weeks before the start of the semester. (Refer to the Current ACC Student Handbook) Please let me know as soon as you can (before the need arises) that you need ac- commodation. I will work with you to make sure you can get this course done as effectively as possible.
Safety Statement
Each student is expected to learn and comply with ACC environmental, health and safety procedures and agree to follow ACC safety policies. Emergency posters and Campus Safety Plans are posted in each classroom. Additional information about safety procedures and how to sign up to be notified in case of an emergency can be found at Emergency Notifications. Anyone who thoughtlessly or intentionally jeopardizes the health or safety of an- other individual will be immediately dismissed from the day's activity, may be with- drawn from the class, and / or barred from attending future activities.
Freedom of Expression Policy
It is expected that faculty and students will respect the views of others when expressed in classroom, or in discussion groups on class websites or Blackboard.
Student Files - Privacy
The information stored on your student drives in the lab may be viewed by the instruc- tor or lab technicians for academic and educational reasons.
Concealed Handgun Policy
Concealed Handgun Policy The Austin Community College District concealed hand- gun policy ensures compliance with Section 411.2031 of the Texas Government Code (also known as the Campus Carry Law), while maintaining ACC's commitment to pro- vide a safe environment for its students, faculty, staff, and visitors. Beginning August 1, 2017, individuals who are licensed to carry (LTC) may do so on campus premises except in locations and at activities prohibited by state or federal law, or the college's concealed handgun policy. It is the responsibility of license holders to conceal their handguns at all times. Persons who see a handgun on campus are asked to contact the ACC Police Department by dialing 222 from a campus phone or 512-223-7999
Use of ACC E-mail
All College e-mail communications to students will be sent directly to the student's ACC email account, with the expectation that such communications will be read in a timely manner. ACC will send important information and notify you of any college reletaed emergencies using this account. Student should only expect to receive email communication from their instructor using this account. Likewise, students should use their ACC mail account when communicating with instructors and staff.
Student and Instructional Services
ACC strives tp provide exemplary support to its students and ofers a broad variety of opportunities and services. Information on those services and support systems is available on the ACC website. Links to many student services and other information can be found there as well. ACC Learning labs provide free tutoring to all ACC students currently enrolled in the course being tutored. The CIS department also offers free tutoring on many campuses. Check on the CIS website for tutoring schedules.
Class Schedule