Digital Components¶
Read time: 26 minutes (6520 words)
As we start off on our adventure in building a computer in software, we need to look at some of the basic building blocks we will be exploring. We might as well take a look at the motivational computer I am going to use for this project, the Atmel ATtiny85 microcontroller: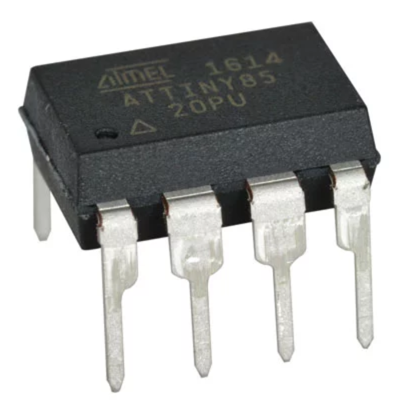 Not much of a gadget, is it? But this tiny package houses a complete computer. It has a processor, memory, and several interesting other gadgets inside that make it very useful for building into some kind of product that needs some smarts. That product might be a digital thermostat, or maybe a microwave oven, or maybe even something inside of your car!
The package this processor lives in is called a Dual Inline Package`, or Dip for short. This packaging was introduced in the early 1970's and every company that made digital parts used this design so systems could be constructed with parts from many sources.
This particular one is called a dip-8, meaning it has eight "pins" where we can attach wires to connect it up to other component parts in our system.
We will explore those "pins" and "wires" in our next lecture. For now, let's concentrate on that "dip" thing.